Who's Next Dubai heads in the right direction
The organiser of Middle East Fashion Days by Who's Next & Premiere Classe plans a second session. The last event was held from October 19th to 21st in Dubai. More visitors came, just over 1,900, up 61% (obviously some came from Dubai but also from Kuwait, Lebanon, Qatar, Egypt and Bahrain) and above all they were welcomed to the nine catwalks (three per day) and the last shopping day open to the public.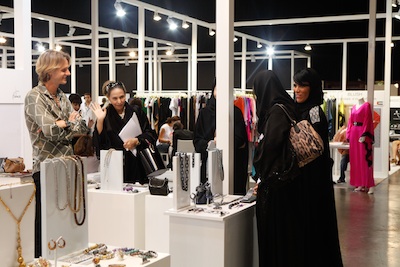 Who's Next & Première Classe trade show area in Dubaï
With his two new initiatives,
Boris Provost
, trade show director, director of communications of WSN development, exhibition organiser who was helped with a local team this time, claims to have changed the concept of their offer more towards market expectations and buyer behaviour in the area. The catwalks in particular gather between 250 and 400 people up.
A conference program led by
WGSN
has also been established. Each conference held 50 to 100 participants. An overall opinion shared by many exhibitors, including French Barbara Colas (brands John Steel and Emma Peale) who noted the significant progress made in the trade show this year compared to the first edition.
Of course, WSN Development has not thought of a fixed formula for this second edition. The organiser expects to awaken the curiosity of buyers for new underrepresented brands in the Middle Eastern market and he believes they have their place. Their ambition is to become a new meeting place in the international calendar, reflecting all the methods and inspirations of the Middle East and the wider international setting. "The success and sustainability of the event will be the result of this clever relevance," said Boris Provost. The third edition is planned for October 2011.
Copyright © 2023 FashionNetwork.com All rights reserved.