Target faces Ackman showdown at annual meeting
Published
today
May 25, 2009
SAN FRANCISCO (Reuters) - One of the season's most high-profile proxy battles will culminate in an unfinished Target Corp (TGT.N) store in Wisconsin next week as the retailer's shareholders decide whether to elect a slate of directors proposed by activist investor William Ackman.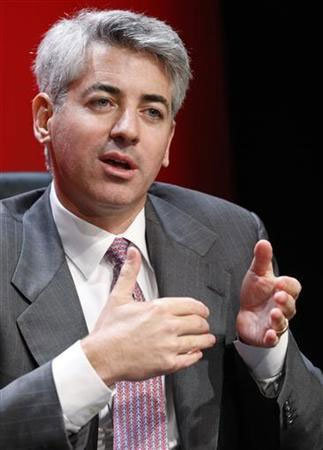 William Ackman
Ackman, whose Pershing Square Capital Management owns a 7.8 percent stake in the retailer, is seeking a seat for himself and four other nominees on Target's board. In the increasingly contentious battle, Target is running four incumbent directors for election at the May 28 meeting.
If he wins, Ackman will be in a stronger position to push the retailer to sell the rest of its credit card operations or spin off its real estate holdings.
For Target, a win would show support for its current management team, which has argued that it is best suited to position the retailer for success over the long term.
What has made the proxy contest unusual is that analysts and investors have praised Target as a best-in-class retailer with a capable management team -- not the type of company that typically becomes the target of an activist investor.
But some have acknowledged that Ackman, who is known for well-researched and often successful proxy battles, could bring a fresh perspective to Target's board and prod the insular retailer to explore new business opportunities.
Greenwood Capital Associates portfolio manager Walter Todd said he voted for Ackman's slate, except for Ackman himself.
"I don't have a real issue with what management has done and what they are doing," said Todd, who holds roughly 70,000 Target shares, a very small stake in the retailer.
But he added: "I think the idea of having the best possible people, having some new fresh ideas on the board ... I don't think that's a bad thing."
On the other side, the State of Wisconsin Investment Board has voted in support of all of Target's nominees. It owns roughly 2 million Target shares, or a 0.27 percent stake in the retailer, according to regulatory filings.
Determining the outcome of the proxy battle remains uncertain. Headed into the annual meeting, the two sides appeared unwilling to reach a compromise, with Ackman telling Reuters on Thursday 21 May that settlement talks were not ongoing.
"If either side believes it has a chance of winning, they won't settle," said Charles Elson, Director of the John L. Weinberg Center for Corporate Governance at the University of Delaware. "You only settle when you're convinced that you're going to lose."
FIGHT AT UNFINISHED STORE
Ackman is planning to attend Target's annual meeting, but he has ribbed the retailer for choosing the location, an unfinished store that has yet to open to the public.
Investors who do not attend the meeting will also be at a loss to follow the action. Although Target has webcast from meetings in the past, it will not provide one this year.
Spokeswoman Susan Kahn said she did not have a comment on Target's decision not to webcast. Target also said it has held its annual meetings in unfinished stores for several years.
Corporate governance executives said Ackman faces an uphill battle in his proxy contest, although they said it is easier to win over shareholders by running a short slate of candidates -- as Ackman has -- instead of seeking full control of the board.
Ackman has won the support of RiskMetrics, the leading shareholder advisory firm, which recommended Target shareholders vote to elect him and former Starbucks CEO Jim Donald to the board. Target disputed the RiskMetrics' report, saying it contained statements that were "inaccurate or misleading."
Meanwhile, proxy advisory firm Glass Lewis & Co recommended that shareholders vote for all of Target's nominees, while Proxy Governance recommended that shareholders elect two of Ackman's five dissident board nominees.
BATTLE TWO YEARS IN THE MAKING
The annual meeting marks the culmination of a proxy contest that was launched in March, but whose seeds were planted in 2007, when Ackman began accumulating his Target stake.
After seeing his investment wither as Target's stock plunged during the economic downturn, Ackman pushed Target to buy back its stock and sell its credit card operations.
While Target partially complied with those requests, Ackman launched his proxy contest after the retailer rejected his idea that it spin off the land under its stores into a real estate investment trust, which he said would boost its stock price.
Ackman has publicly praised Target's management team, but said its board lacks critical expertise in real estate, credit cards and food retailing. That left it more vulnerable than Wal-Mart Stores Inc (WMT.N) to the recession, he said, after shoppers stopped buying its high-profit margin trendy clothes and stuck to buying basics, like groceries.
Shareholders will also need to vote to determine the size of Target's board, which the retailer contends is 12 but Ackman contests is 13.
(Reporting by Nicole Maestri; editing by Gunna Dickson)
© Thomson Reuters 2020 All rights reserved.