Prêt A Porter Paris: snapshot of brands on show
With Saturday's kick-off (September 4), FashionMag.com focuses on a selection of emerging and established fashion and accessory brands that will be present at Paris' Prêt A Porter trade show.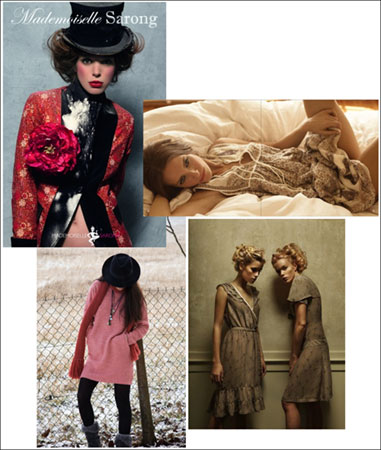 From left to right and from bottom to top, brands Mademoiselle Sarong, Winter Kate, L'Herbe Rouge and Madcha
Under the fashion fair's theme "La Parisienne Engagée" (The Pledged Parisian), it promises to showcase this time a yet wider offering which aims to inject a new energy into the dressing room. Since FashionMag is committed to bringing you the latest in fashion innovations, we have put together an insight into a selection of the brands showing in the different areas at Prêt A Porter.
In particular in the area, Atmosphere's, Castelbajac's JC will present its second bright and colorful line JC/DC. Celebrities will even be honoured with the presence of Nicole Ritchie's fashion lines. Firstly, "Winter Kate" offers an eclectic ready-to-wear style, mixing vintage and classic; long and short dresses, tunics, jackets ... in silk, embellished with embroidery and details such as macramé. As for "House of Harlow in 1960", this is just
Nicole Richie
's shoe range.
Show Director,
Muriel Piaser
confirms "the continuation of its search for emerging designers." Thus we discover the creations of Spanish designer Saunz Patricia (Atmosphere's), Asian fabric-created pieces from Mademoiselle Sarong (Shibuya), organic eco-friendly knitwear and jeans from L'Herbe Rouge (So
Ethic
) and the French brand Madcha Lille (Atmosphere's); all arriving straight from show "Maisons de Mode".
Long live the accessory!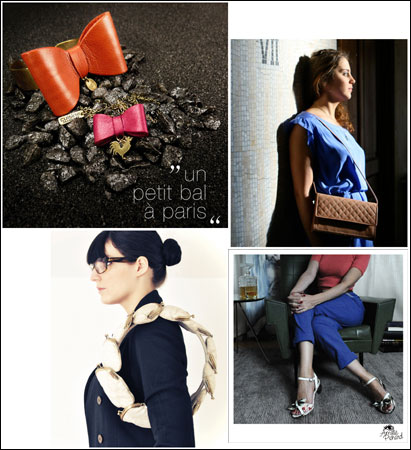 From left to right and from bottom to top, brands Cuisine Française, Torulabag, Tammy et Banjamin and Amélie Pichard
As for accessories in
The Box
area, it proposes clashing styles, retro indulgence...then playing the humour card is brand "Cuisine Française" who creates jewellery with coloured leather. "Tammy et Benjamin" covers its tracks with evening bags and purses that have transformed into never seen before designs. Another innovative bag concept comes from Torulabag who claims to be the "first designer bag retailer online". With regards to footwear, Amélie Pichard reveals her first chic must-have French retro collection.
Original by Céline Vautard. Translated by Rosie Hart
Copyright © 2023 FashionNetwork.com All rights reserved.