Paris Fashion Days: shows' schedule sneak preview
The Paris ready-to-wear fashion event, organised in partnership with IMG Fashion UK, will see seven innovative brands and accompanying designer lines parade their creations on July 4th and 5th. A sneak preview of the days' schedule is revealed.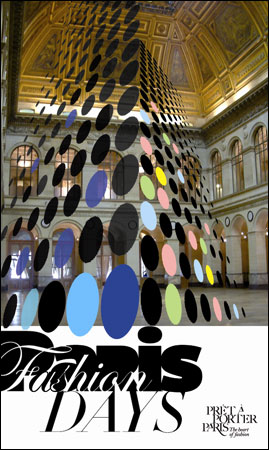 Paris Fashion Days takes place at Palais Brongniart
With Brandalley as the main sponsor, Paris Fashion Days sheds light on the timings of every show to be held at the Palais Brongniart, Place de la Bourse (Paris).
Sunday 4th July (day reserved for the press and professionals) kicks off with a preview of 'A Friend': A.F Vandevorst's pre-spring-summer 2011 collections at 17.00 which will be followed by AVH the first collection by Anne Valerie Hash at 18.30 and then Vivienne Westwood Anglomania at 20.00.
The following day, Monday 5th July (a day opened further to the public that have already obtained seats), the fall-winter collections 2010 will start at 15:30 with leather and fur brand specialist Ventcouvert. Then, at 17.00 Camomilla Milano and Pablo by
Gerard Darel
at 18:30 and finally Chemins Blancs will take place at 20.00.
"We believe that July is a great month for the future of our industry," says
Muriel Piaser
, Fashion Director of CPAP. The show takes place in July before
Bread & Butter
and after the start of the sales which nowadays in Milan are in mid-June. Some people are even already in Paris showrooms, so that they can offer models presenting the lines to their clients at the same time as the shows; this is particularly the case for A Friend by A.F Vandevorst.
Another key point is that Paris hosts in parallel to Paris Fashion Days, Haute Couture fashion shows to, vitally lure in some of the big buyers.
By Rosie Hart. Original source: Céline Vautard
Copyright © 2023 FashionNetwork.com All rights reserved.