Kenneth Cole posts wider Q4 loss, suspends dividend
Published
today
Mar 3, 2009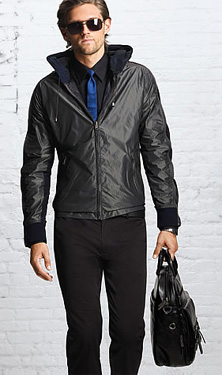 Kenneth Cole fall-winter 2008/2009
* Q4 adj. loss $0.27 v $0.16 last year
* Q4 rev falls 4.2 pct to $126.6 mln
* Suspends dividend
March 3 (Reuters) - U.S. shoe and clothing maker Kenneth Cole Productions Inc (KCP.N) posted a wider fourth-quarter loss, weighed down by margin pressures, and suspended its quarterly dividend to conserve cash in an uncertain economic environment.
The company, known for its leather footwear, said it cut additional jobs and reduced non-media related marketing expenditures since the close of the fiscal year as part of its efforts to further rein in costs.
In January, Kenneth Cole said it cut its headcount by 10 percent.
Cost-reduction measures taken during 2008 and in the first quarter of 2009 are expected to save more than $20 million annually, the company said.
The company, which also manufactures accessories such as eyewear, watches and fragrances, posted a fourth-quarter net loss of $12 million, or 67 cents a share, compared with a loss of $3.1 million, or 16 cents a share, last year.
Same-store sales, a key measure of retail health, fell 10.7 percent.
The company said it converted inventory to cash during the peak holiday season, which resulted in a significant reduction in gross margin during the quarter. However, year-end inventory position was about 10 percent below the year-ago level, it added.
The company previously paid a quarterly dividend of 9 cents a share.
The New York-based company's shares, which have lost 70 percent of their value since touching a high of $19.73 in May last year, closed down 6 cents at $5.84 Tuesday on the New York Stock Exchange. (Reporting by Mihir Dalal in Bangalore; Editing by Deepak Kannan)
© Thomson Reuters 2020 All rights reserved.