Cerruti fears recovery blight from Europe crisis
PARIS (Reuters) - The head of Cerruti, the Italian fashion house known for its smart suits for men and 1881 perfume, said on Tuesday 1 June he was concerned discretionary spending could take a hit with the current budget crisis in Europe.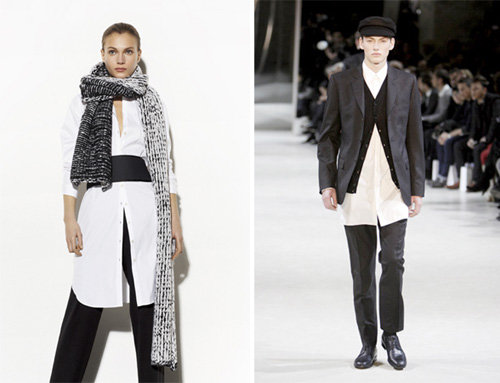 Cerruti
The fashion company, which competes with
Hugo Boss
(BOSG_p.DE) and Armani, said the recovery seen since January could prove short-lived, and big markets such as France and Italy could end the year with relatively flattish growth.
"We are watching very closely what is going on in Greece and the austerity plans that are being put in place by governments," Cerruti Chief Executive Florent Perrichon, a former LVMH executive, said at the Reuters Global Luxury Summit in Paris.
"We are concerned that the green shoots of recovery we saw earlier this year might disappear, but it is still too early to say."
Perrichon said he expected China to remain the biggest driving force this year and help Cerruti lift sales to 160-170 million euros from 140 million euros last year.
His ambition is to bring sales to 400 million by 2014.
In 2009, Cerruti made an operating loss of 4 million euros, but this year the deficit should be smaller, in spite of higher marketing expenses, and the company remains on track to break even by 2012, he said.
The fashion company, which went bust six years ago, is basing its revival on license partnerships, but resuscitating a fashion brand is no mean feat.
The downturn took its toll on high-profile names such as Christian Lacroix in France, Mariella Burani in Italy and Yohji Yamamoto in Japan.
"If it wasn't for China, it would be impossible (to resurrect a brand)," Perrichon admitted.
Cerruti's business model is similar to that of Balmain which collapsed in the mid 2000 and is now rising from the ashes and growing mainly through licenses.
Perrichon said the fashion company was on the lookout for partners for its womenswear line in Europe and Japan and was close to securing a deal with a partner in China.
MARC LAVOINE
Cerruti just hired French singer Marc Lavoine for its 1881 perfume ad campaign in France, its biggest perfume market.
To infuse new life in the brand's womenswear, Cerruti hired British designer Richard Nicoll, who used to work with Marc Jacobs for Louis Vuitton and who still designs his own brand.
Nicoll presented his first Cerruti collection at the Paris fashion week in March, the maison's first womenswear show in five years.
Menswear is designed by Jesper Borjesson, whose first collection in January was well received by the fashion press and by Nino Cerruti himself, who was sitting on the front row.
Nino Cerruti, who set up Cerruti in the late 1960s with the ambition of selling Italian elegance to the French, sold it in 2000 to Italian investors Finpart, and four years later it was bankrupt.
Cerruti was bought out of administration in 2006 by U.S. hedge fund MatlinPatterson, specialists in distressed assets, who placed Perrichon at its helm in 2008.
The Cerruti fashion company, which used to design suits for Hollywood actors such as Robert Redford and Michael Douglas in the 1980s, had been a training ground for designers including Giorgio Armani, who left to set up his own company in the 1970s.
But if the fashion house is no longer in the family, Nino Cerruti kept the textile plant in northern Italy that still makes woolen fabrics for Cerruti suits and other manufacturers.
Cerruti makes its men's couture lines in Italy and women's luxury lines in Belgium but outsources the production of its second lines, accessories and perfumes to license partners.
For example, Cerruti perfume is made by Coty and jeans are made by Moncler, the French Alpine brand that used to belong to Italy's Finpart and is now co-owned by Italian businessman Remo Ruffini and private equity firm Carlyle and is one the biggest success stories in the fashion world.
(Editing by Will Waterman)
© Thomson Reuters 2023 All rights reserved.