PV Denim identifies the styles of Autumn-Winter 2011/2012
Down the winding aisles of the latest Denim event by Premiere Vision (2nd and 3rd of June), visitors uncovered the Autumn-Winter 2011/2012 trends, and in a few weeks Bread&Butter will present their 2011 summer collections. Instability does seem to be still holding designers back though. "I have not seen a great change in fabrics. What bothers me the most is the price of raw materials and currency growth", a denim brand stylist discloses.


Confirming this point, the exhibitors appeared to value authenticity, quality and, here and there, comfort. "You know, sometimes we hear that the 'blue' spell is on its last legs. But the reality is that denim has become indestructible due to its multi- facetted nature", Thomas Dislich Director of Vincunha Europe considers. "Every season our clients are shown five style indications, two of which are the most effective and then two others which are less strong. Everything goes in roundabouts. Reinvention and innovation is not always possible. We cannot be sure that we will be in the same situation each day" and from the start the exhibitors unanimously spoke about the return to authentic-looking denim. In brief, the smarter fading and the heavier fabrics draw attention to product quality. "Here the jean is displayed in its full splendour. We propose everything from the ultra-light to the heavy-weight materials, from the smart to the worn look. The decline of the business city-dweller collections has led to a clean, soft jean trend", Dominique Fournier co-founder of the style bureau and the White Sky brand strategy explains.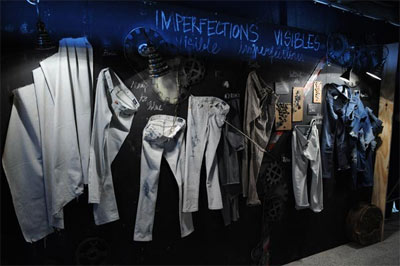 Denim Gallery
The principal elements to Autumn-Winter 2011/2012, for the organisers, are fabrics which are soft, ultra-dense, stained, super-stretchy and eco-friendly. Thomas Dislich adds to these four important themes, namely the classic style for men as well as 'new heavy', super-stretchy and black denim. "The strong trends for me are definitely slim-fit, authentic denim and the classic jeans", Jean T. Hegedus from
Invista
concludes.
Copyright © 2023 FashionNetwork.com All rights reserved.