LFW models' rights registered
Developed over a number of years and agreed after consultation involving models and other key figures in the fashion industry, a set of recommended terms and conditions has been drawn up by the Model Programme, which comprises of Equity, the Association of Model Agents, the British Fashion Council, and the Greater London Authority.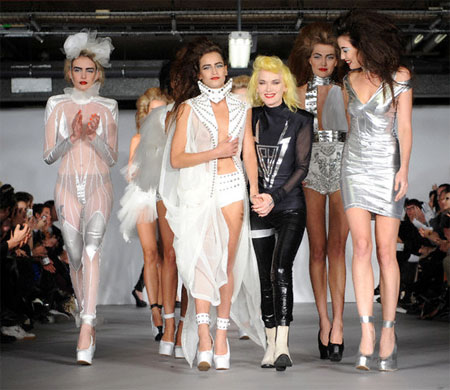 Fashion designer Pam Hogg with models on the runway wearing designs from her Spring/Summer 2010 collection during London Fashion Week. Photo : Corbis
Carried out under the Model Health Inquiry and the ensuing Model Health Action Plan, the recommended terms and conditions cover the following:
• A minimum rate of pay per show for emerging designers.
• Fees for fitting sessions.
• Photographs and footage of shows to be used for reporting/editorial purposes only.
• A minimum break during each show.
• Food and drink to be provided backstage at each show.
• Reasonable working temperature during shows.
• Privacy for models in the changing area.
• No models under 16 years of age.
• Models must be told in advance of any requirements for nudity or semi-nudity.
• Transport to be provided for late/early working sessions.
• Model's employers are responsible for all aspects of health and safety and will undertake risk assessments.
Equity General Secretary Christine Payne commented: "This is a major achievement for models. I pay tribute to the small group of models (including Dunja Knezevic and Victoria Keon-Cohen) who have helped to bring this about."
The Mayor of London Boris Johnson said: "In addition to producing some of the most exciting and innovative fashion in the world, we want London to be at the vanguard for looking after models and emerging designers. I am pleased that models and others within fashion have been able to agree on the best working conditions possible to maximise their impact and make sure industry sets the highest standards."
By Rosie Hart
Copyright © 2023 FashionNetwork.com All rights reserved.