Judges' wigs get the chop
LONDON (Reuters) - A centuries-old tradition of wearing a white horse-hair wig in court ended for many judges on Wednesday when a simpler new dress code came into force.
While judges in criminal cases will still wear them, those in civil and family hearings will appear bare-headed in court, wearing a new-style plain black robe, the government said.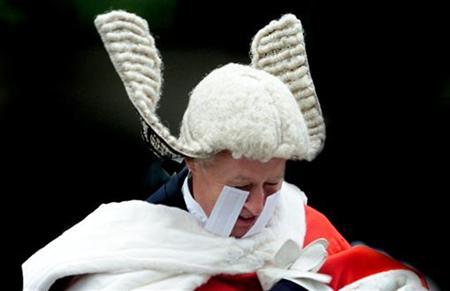 After a long debate that divided the legal profession, the Lord Chief Justice, Lord Phillips, head of the judiciary in England and Wales, finally ordered the changes in an attempt to modernise the courts.
Wigs have been an emblem of the British legal system since the 17th century when the fashion for wearing them in wider society filtered through to the courts.
For hundreds of years before the reign of Charles II, judges and lawyers were expected to come to court with short hair and a beard.
The decision to abandon wigs has dismayed traditionalists who argue that they give judges an air of authority and impartiality. The degree of anonymity that wigs provided could also protect them from angry members of the public.
John Mortimer, the barrister and author of the "Rumpole of the Bailey" books, opposed the changes.
"The idea's ridiculous! A barrister without his wig would be like a doctor without a stethoscope," he wrote in a newspaper article when the changes were first proposed.
However, modernists argue that wigs are a hangover from the past that could intimidate people in court.
In a newspaper interview, Lord Phillips described wigs as an anachronism that gave the public a false impression of judges.
A Ministry of Justice survey last year found 70 percent of court workers wanted to keep wigs, compared to 42 percent of the public.
(Reporting by Peter Griffiths; Editing by Astrid Zweynert)
© Thomson Reuters 2022 All rights reserved.