Indians defy high gold prices as festive season starts
MUMBAI/SINGAPORE (Reuters) - Indians have started buying gold jewellery and wholesalers are stocking up against anticipated price rises as the busy season gets under way in the world's largest bullion consumer, dealers said on Wednesday 5 August.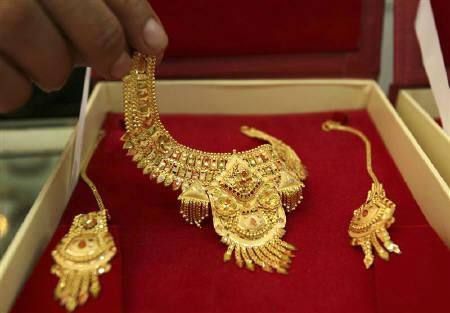 Photo: REUTERS/Mukesh Gupta
India, which accounted for more than 20 percent of global demand for gold jewellery in 2008, celebrates the Hindu festivals of Raksha Bandhan, Janmasthami and Ganesh Chaturthi in August, when demand for bullion usually picks up.
Elsewhere in Asia, gold's rise to a two-month high above $970 an ounce spurred selling, but premiums for gold bars were steady at 70 cents to the spot London price in Singapore, suggesting that consumers would still buy on dips.
"As against nothing earlier, there is at least something now. This month for the festivals, the real consumers will be buying, so demand has revived a bit," said Haresh Acharya, bullion desk head at Parker Agrochem Exports Ltd, a wholesaler in Ahmedabad.
"However there is hardly any demand from northern India because of the below normal monsoon. If the monsoon fails, the full year will be very bad," said Acharya, referring to sales.
Jewellery is the most common gift during religious events in India and forms an essential part of the dowry basket. Weddings usually take place during the festive season, when parents give gold jewellery to their daughters for financial security.
Weak monsoon rains could hurt demand because farmers, who account for 65 percent of India's gold demand, depend on good harvests, but some dealers said wholesalers were active in the local market, looking for an opportunity to buy.
"When prices fall a bit, there is buying. The sentiment we saw in the first half of the year has turned around," said Ajit Shinde, a director at wholesaler Magna Projects Pvt. Ltd., which is based in the eastern city of Kolkata.
The most active October contract on the Indian gold futures added 25 rupees, to 14,920 rupees ($312.8) per 10 grams on Wednesday 5 August. Cash gold fell $3.20 to $963.55 but was within sight of a two-month high of $970.05 on Tuesday 4 August.
India's jewellery demand has suffered because of high global prices earlier this year and an economic slowdown, with consumption falling 52 percent to 34.7 tonnes in the first quarter.
Gold was around 4 percent below an 11-month high above $1,000 hit in February.
"In the near-term, it certainly has a bit of upside pressure and with expectations for the dollar to weaken further, I would expect gold to remain buoyant for now," said Adrian Koh, an analyst at Phillip Futures in Singapore.
Premiums were also steady in Hong Kong at 30 cents to the spot London prices, but physical trading slowed to a trickle in Tokyo during the summer holidays. Japanese dealers offered gold bars at a discount of 50 cents to London, compared with a premium of 25 cents two weeks ago.
By Ruchira Singh and Lewa Pardomuan
© Thomson Reuters 2022 All rights reserved.