Fashion's creative capital London squeezed by time
By Catherine Bosley and Kylie MacLellan
LONDON (Reuters) - A shortened London Fashion Week held onto its title as the capital of creativity but struggled to hang onto the catwalk models under pressure from its rivals.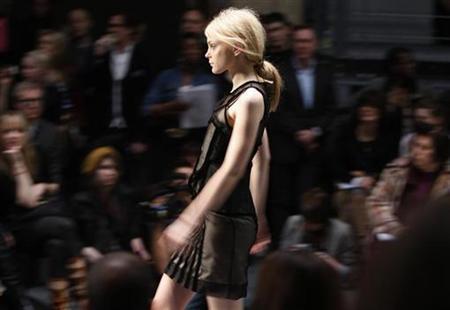 The womenswear collections, famous for featuring some of the world's most avant-garde designers, ran from February 20 to 24. Trends for Autumn/Winter 2009 included tailored jackets with oversized shoulders, subtle sparkle and conservative necklines.
But the event was cut from its usual six days and overlapped with shows in New York and Milan after the U.S. fashion council pushed its collections back a week, prompting some models to skip coming to Britain at all.
"Everyone says Milan, Paris is more important and New York, of course. So you'd rather skip London than miss something in Milan," said model Tabea Koebach, 20, who wore a maroon silk dress and a wide black belt on the catwalk for Jaeger.
London is poised to reassert its international profile in September, when shows will be extended to five days and held at Somerset House, a larger and more central location, rather than the Natural History Museum.
"We all have the same problem," said 18-year-old model Stella Maxwell, as a hair dresser adjusted a blonde curl.
"You can miss a lot of castings and come late and they've already chosen their girls. It's tough," Maxwell said, ahead of the Luella Bartley show where models wore golden frocks with black mesh inserts and suspender straps.
Castings are auditions for models, who are usually selected individually for shows by designers such as Julien Macdonald, whose collection included blazers with exaggerated shoulders that curved upwards and billowing blouses with plunging v-necks.
The Welsh designer also created a minidress of coiled black netting and rhinestones that looked like a glittering cobweb.
Henry Holland helped bring fashion week to a close on Tuesday with an energetic show. Models strutted down the catwalk in colour palette-inspired outfits of pink, purple, turquoise and green, broken up with thick horizontal white stripes.
IBERIAN RIVAL
Designers and fashion-lovers who spoke to Reuters seemed to agree that, despite struggling to retain its clout, London was unrivalled in nurturing new talent.
"London is really the birth place of fashion today," said French-born designer Nicole Farhi, who set up her label in the early 1980s and has shown in London ever since.
"It is where the creativity comes from," she added.
Model Erin O'Connor, who sat in the front row at several shows, including Holland's, said her attendance at London's shows was all but guaranteed.
"Anything goes basically in London. It's a thriving capital for experimentation," O'Connor told Reuters after the Betty Jackson show, describing Jackson's designs as "easy glamour."
Some models also skipped Britain's fashion shows in favour of Madrid's, which were held at the same time, said James Horner of the modelling agency Models 1.
Along with Carole White of agency Premier Models, Horner said this was because models in Madrid were offered guaranteed money in the form of package deals.
The reason Koebach, from southern Germany, decided on London was because her agency organised a package deal with several British designers, including high street chain Topshop.
"It was a direct booking," said Koebach, who also took the runway for young talent Christopher Kane, who presented knee-length dresses of flesh-coloured organza with black velvet stripes and cascades of ruffles.
"If you (have to) go to London and do all the castings, it's not possible," she said.
Model Hanna Rundlof, sitting in a navy blue coat on the steps of the Saatchi art gallery after a show, said she too had at first not considered coming to London. When asked why, she simply said: "Stress."
(Editing by Paul Casciato)
© Thomson Reuters 2023 All rights reserved.