Dressing for success might get you that job
By Pauline Askin
SYDNEY (Reuters Life!) - Want that promotion? What you wear may be just as important as what, and who, you know to getting up the career ladder, according to a leading Australian fashion and marketing consultant.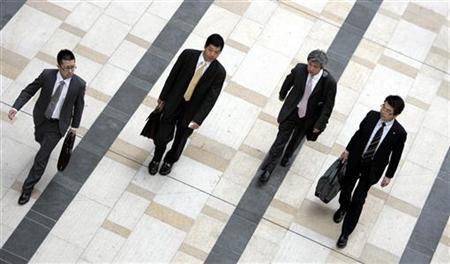 Serena Beirne, director of Australian Fashion Partners, whose specialties include including business fashion consulting, told Reuters that employees should think of themselves as products and "package" themselves to sell well, especially as the global economy slows down and job opportunities become scarce.
"When you are in the work environment, the product you are selling is yourself. The packaging, display and the merchandising of that product is enormously important," Beirne said.
Beirne said that managers, like everybody else, will pick employees, like products, that look the most appealing.
She said the golden rule for dressing for success was to take an objective look at people whose role you aspire to be in, and then imitate them.
"In some corporate environments, there is brand-linking opportunities, so if you have the appropriate handbag or if you wear the same shoes as the CEO, people will recognize there's a person on the move," she said.
But when it comes to bling, Beirne warned that understated is always best. "Over-giftwrapping yourself is potentially distracting from the thing you are trying to draw attention to -- you," she said.
And forget about dressing for comfort, even on so-called casual Fridays, unless you work for Google or other similar companies that encourage employees to adopt a laid-back approach.
"Dressing for comfort is never appropriate for work, it's not about making you feel comfortable, there are ways to do that in the workplace but not through relaxed dress," Beirne said.
Wearing your convictions or hobbies on your chest is also a definite no-no, as is dressing for the office as you would for the nightclub.
"Don't wear those rock and roll T-shirts. And try some subtlety. Leave a few things to the imagination," she advises.
(Editing by Miral Fahmy)
© Thomson Reuters 2022 All rights reserved.