At Taiwan beauty contest, it's all about the men
TAIPEI (Reuters Life!) - Swimwear, evening wear and polished lines will decide the winner of an international beauty pageant in Taiwan this weekend, but dresses, eyeshadow and long hair are out -- this contest is only for men.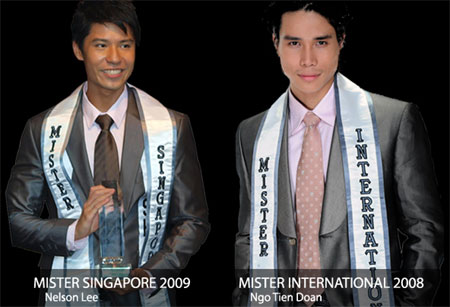 Photo: www.mistersingapore.org
After two weeks of practicing dance steps and fine-toning muscles, contestants from 28 countries will walk down a catwalk in central Taiwan on Saturday 19 December to be crowned as the world's most handsome man in a contest that's becoming more popular.
"Women can do it, so guys can do it, too" said Christine Huang, the pageant's hostess in Taiwan. "You see negative press about some of the women's contests, but this one's going to be pretty conservative."
Pageant producer, the Mister Singapore Organization, has held a Mister International pageant annually since 2006 largely to raise HIV/AIDS awareness, though there are no AIDS-specific activities scheduled this year, Huang said.
Contestants include 19-year-old Russian language student Jelson Quintas of Angola, musically inclined 20-year-old Bruno Kettels of Bolivia and 22-year-old medical scientist Nelson Lee of Singapore.
"Females can do pageants, so I don't see why males can't do them, too," said Lee, who is keen to talk to the media, compare candidates and discuss the merits of what matters more -- muscles or faces. "Males can also be beautiful."
In the run-up to the pageant, contestants are strutting their way through a series of publicity events such as a visit to a hospital for blind children and a news conference at one of the island's signature hot springs resorts.
"I'm telling the contestants how to behave and how to win," said Mohammad Chamseddine, 27, a judge from Lebanon. "It's to be friendly, to be gentle, to have a good attitude.
"Male competitions aren't quite well known yet," he said. "For males it's awkward, but in years to come, pageants will become known for not just females."
Reigning beauty king Ngo Tien Doan of Vietnam will crown his successor on the Saturday 19 December ceremony which will be attended by about 500 people. The winner will receive $5,000, a personal trainer and a list of beauty products.
(Editing by Miral Fahmy)
© Thomson Reuters 2022 All rights reserved.